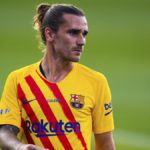 Barcelona star Antoine Griezmann reveals he has ended a partnership with Huawei over accusations the electronics brand tested facial recognition software to aid the repression of the Uighur community by the Chinese government.
The French forward announced on Thursday, December 10, that he would "immediately terminate (his) partnership" with Huawei, citing "strong suspicions" that the Chinese telecoms giant is involved in the surveillance of the Uighur Muslim minority.
"Following strong suspicions that the company has contributed to the development of an 'Uyghur alert' using facial recognition software, I am announcing that I am putting an immediate end to my partnership," wrote the attacker, who has been Huawei's ambassador since 2017.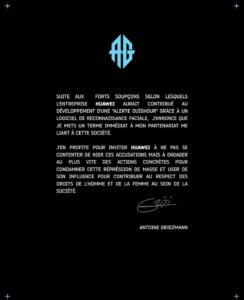 The 2018 world champion calls on "Huawei not to simply deny these accusations but to take concrete action as soon as possible to condemn this mass repression (…) and use its influence to contribute to the respect of human and women's rights".
The human rights organisation Human Rights Watch (HRW) said in a report on Wednesday, December 9, that Muslims have been arrested in the northwestern Chinese region of Xinjiang after being "flagged" by software that identifies suspicious behaviour.
Huawei is being singled out in the United States by research firm IPVM for using facial recognition software to identify Uighur-looking people.
---
Thank you for taking the time to read this news article "Barcelona star Antoine Griezmann has ended a partnership with Huawei". For more UK daily news, Spanish daily news and Global news stories, visit the Euro Weekly News home page.